Rec and Park's 85th Annual Holiday Tree Lighting on

December 4
Kick off the holiday season with SF Rec and Park! Join us for our 85th Annual Holiday Tree Lighting at McLaren Lodge in Golden Gate Park
tomorrow
,
Thursday, December 4
, from
4 p.m. to 8 p.m.
Enjoy live entertainment, caroling, a cookie factory, sledding, snow play, carnival rides and a visit from Santa. Free!
Donate a toy for the Operation Dream and SF Police Department's annual toy drive!
Help everyone enjoy a happy holiday season by bringing a new, unwrapped toy to the event and dropping it off to any of our several donation barrels located at points throughout the event.
Watch our Tree Lighting promo video here!
Meet Photographer Fred Lyon This

Saturday, December 6
Harvey Milk Photo Center Presents: Meet Fred Lyon-

Sat.,Dec 6th, 2014

, from

1-3pm

- Book Signing and New Film! Come and meet this photographer!
Fred Lyon Photographer- Images from 1940-1960's, will be at the HMPC,
Sat., Dec 6th from 1pm-3pm
, for his book signing, and we will be showing his new documentary from
1:30pm-2:30
-pm. This would make a wonderful Holiday Gift! Come meet this incredible photographer, who has captured so many beautiful and iconic images of San Francisco! This event is open to the public and is free!
Come see Fred's images which are in our gallery currently.
Address: Harvey Milk Photo Center- 50 Scott Street, San Francisco, CA 94117,
(415) 554-9522
.
Save the Date: Boeddeker Park Grand Opening Celebration on

December 10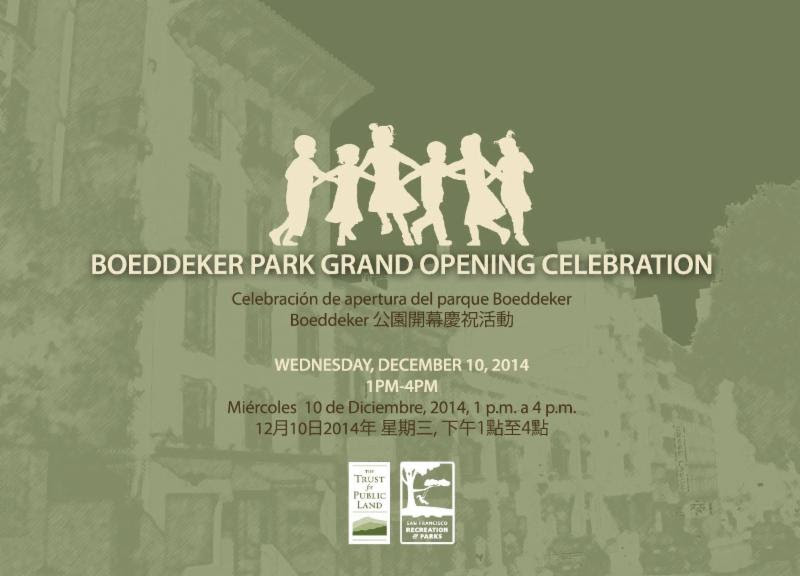 The Trust for Public Land and San Francisco Recreation and Parks invite you to the reopening of Boeddeker Park in the city's Tenderloin neighborhood,
Wednesday, December 10
, from
1 p.m.
to to
4 p.m.
This event will include a special ribbon cutting ceremony, live entertainment and activities for kids and residents of all ages. Join city officials, community organizations and neighbors for an afternoon of fun!
More info here.
Upcoming Community Opportunity Fund Workshops
Upcoming workshops for individuals or groups interested in making improvements at their local park:
Saturday, December 6, 2014
County Fair Building in Golden Gate Park (9th Ave. & Lincoln Way)
Joe Lee Recreation Center - Multipurpose Room (1395 Mendell Street)
You can find more information on the COF program and workshop materials
here
, or email our project manager at
Karen.Mauney-Brodek@sfgov.org
.
Please note: Round Four applicants may not need to attend one of these upcoming workshops. Please follow up with Karen Mauney-Brodek to confirm.
KTVU: World AIDS Day Observed in Golden Gate Park
(Dec. 1, 2014)--- The San Francisco Bay Area marked the 26th annual World AIDS Day with memorials, free HIV testing sites, and candlelight vigils
on Monday
. Decades after the Centers for Disease Control first named HIV/AIDS in 1982, the human toll is clearly marked in San Francisco's Golden Gate Park at the National Aids Memorial Grove. The annual service drew a crowd of people to the grove
Monday
afternoon. Organizers rang a bell for each person remembered, names etched in stone at the memorial, as well as in the hearts of survivors who gathered there.
See the entire news clip here
, or learn more about the
National AIDS Memorial Grove in Golden Gate Park
.


Mobile Rec Comes to Moscone Playground on

December 6
Come out to Moscone Playground (1800 Chestnut) this
Saturday, December 6
, from
11 a.m. to 2 p.m.
, for Mobile Rec,including climbing, slack lining, disc golf, skateboarding and BMX biking. Free! We provide the safety equipment, you come out and play! (Event subject to cancellation due to rain.
Check our website for updates.
)
Join Us for a Healthy Parks Healthy People Walk in Golden Gate Park on

December 6
Walk in Golden Gate Park

Saturday December 6

, at

10 a.m.
Come join Healthy Parks Healthy People and engage in some light stretching, socializing and a guided hike around Stow Lake, one of the parks most popular areas.
10:00AM
Meet by the picnic tables next to the dock. The closest Muni stop is Lincoln & 19
th
streets, or Fulton & 25
th
, you will then walk into Golden Gate Park following the signs to Stow Lake.
Please check local weather forecasts - Trail Walks will be canceled due to rain or unsafe conditions. For more information email
lisa.mchenry@sfgov.org
.
Sharon Art Studio Winter Sale on

December 7
Come See Rec and Park's Talented Actors in Hush,

December 12 and 13
Rec and Park's Junior Acting Troupe from the Harvey Milk Center for the Arts presents "Hush, An Interview with America" at
7 p.m.
on
Friday, December 12 and Saturday, December 13
, at the Mission Art Rec Center (745 Treat Street). Refreshments and raffle prizes! Admission is free but donations happily accepted through the SF Parks Alliance Gear Up Fund. For more information,
Winter Registration Begins December 13
Get ready for winter!
Registration for our popular winter programs begins
Saturday, December 13
, at
10 a.m.
, online or in person at
13 sites around the city
. With hundreds of classes at sites around the city, we have something for everyone in your family!
Click here to browse our catalog
of offerings and get ready to get out and play with Rec and Park!
Hoop Shoot Free Throw Contest at Sunset Rec on

December 13
Rec and Park, in partnership with the SF Elks Lodge, No.3, invites all girls and boys, ages 8-13, for our annual Hoop Shoot Contest at Sunset Rec Center (2201 Lawton Street),
Saturday, December 13
, from
10:30 a.m. to 1 p.m.
No pre-registration necessary. Free lunch and t-shirts for the first 80 participants. For more information, call (415) 298-9183.
Randall Museum Holiday Crafts Day on

December 13
The Randall Museum hosts its annual Holiday Crafts Day on
Saturday, December 13
, from
10 a.m. to 2 p.m.
Make your own winter holiday gifts and decorations, including rolled beeswax candles, wooden trains, scented gift soaps, candy houses and more. The Randall Museum is located at 199 Museum Way.
More info here
.
KTVU: Old San Francisco Through the Eyes of Legendary Photographer Fred Lyon