| | |
| --- | --- |
| e-News from the SF Recreation and Park Department | |
Giant Sweep Volunteer Day at McLaren Park and Louis Sutter Playground on August 16
San Francisco is naturally one of the most beautiful cities in the world. Unfortunately, some people think it's OK to trash it. The Giant Sweep anti-litter campaign aims to stop that behavior and build a team to keep San Francisco clean and beautiful.
In February 2012, San Francisco Mayor Ed Lee and the World Champion San Francisco Giants launched Giant Sweep, a citywide campaign that brings together local schools, residents, businesses and community groups to create a culture of clean.
Join SF Public Works and Rec and Park for a Giant Sweep Volunteer Day of Service event at McLaren Park and Louis Sutter Playground on Saturday, August 16, 2014, from
9 a.m. to 12:30 p.m.
The event will include park beautification projects followed by a picnic lunch. RSVP at
recparkvolunteer@sfgov.org
.
Street Soccer USA National Cup Event at Civic Center, August 15-17
Street Soccer USA plays for more than just winning or losing. It plays to better itself, to better its community, and to better the world. Its mission is to improve health, education, and employment outcomes for the most disadvantaged through sports. Street Soccer USA also seeks to raise awareness about the challenges of poverty in America so that as a country we can develop a more level playing field for all.
Join us at the 4v4 Street Soccer USA Cup 2014 in Civic Center Plaza where program teams from 16 cities will celebrate their goals on and off the field.
PLAY: Play in the Cup and registration fees support Street Soccer USA's program during the year
VOLUNTEER: Signup to volunteer with you and your kids to learn about how soccer in changing the lives of at-risk and homeless youth in SF
CHEER: Come to the Opening Ceremonies on Friday August 15th at 12:00pm and cheer on the teams throughout the weekend
Saturday in the Park McLaren 2014 Concert Series
The Friends of the Amp (Jerry Garcia Amphitheater in McLaren Park) kicked off the 2014 Saturday in the Park McLaren Concert Series this past Saturday. These free concerts feature an eclectic mix of genres, including R&B, Classic Rock, Bluegrass, International Music and the Blues. All concerts begin at

1 p.m.

For more information on concert dates and performers, click here.
Golden Gate Park Hosts 7th Annual Outside Lands Music and Arts Festival
This past weekend over 200,000 people from all over the world flocked to our cherished Golden Gate Park for the 7th annual Outside Lands Music and Arts Festival. With headliners like Kanye West, Tom Petty and the Heartbreakers, and The Killers- there was truly something for every type of music lover. The weekend was not just about the music, however, as Outside Lands stands out among other music festivals because of the wide variety of local wine, beer, and cuisine. Check out
http://www.sfoutsidelands.com/home/
for more information on the festival as well as photos and history.
Fall Registration Going On Now!
This fall, get out and play with SF Rec and Park. Log onto
sfreconline.com
today to browse our catalog of nearly 1,400 classes and programs, including yoga and fitness classes for adults, dance classes for seniors, and art and sports programs for kids. We have something for everyone!
2014 Annual Dahlia Show, August 16-17
Free Fishing Classes at Lake Merced on

August 16 and 30
Come and fish at San Francisco's beautiful Lake Merced. Free intro fishing class on
Saturday, August 16 and Saturday, August 30
from
8am to 11:30am
. First 12 people only. Anyone above 16 years old must have a California fishing license which can be purchased at the
California Fish and Wildlife Website
. You will find common fish specias such as Rainbow Trout, Catfish, and Black Bass.
B-Magic Annual Back to School Celebration at Youngblood Coleman Park on August 16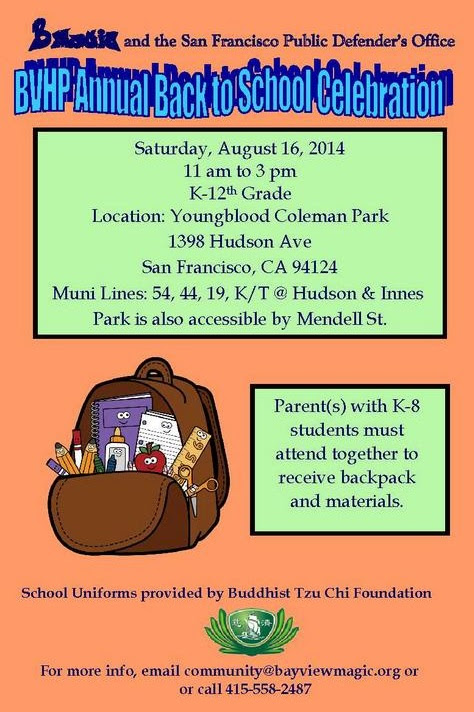 Sunday Storytime Hour in Outer Space on August 17!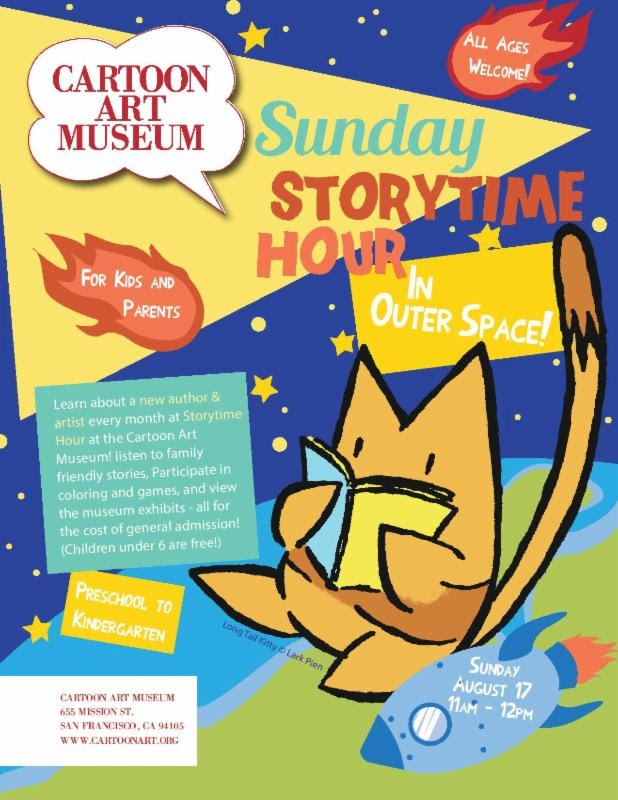 The Cartoon Art Museum is continuing its monthly children's storytime on Sunday, August 17th from 11am-12pm. This month's theme is "outer space" and is free with admission to the Cartoon Art Museum (children 6 and under are free). For more information, please visit the event website.
Mid-Autumn Harvest Festival on

September 6
The Southeast Asian Arts and Culture Coalition present the Mid-Autumn Harvest Festival on

Saturday, September 6, 2014

. The exhibition helps promote and preserve the arts and culture of the Southeast Asian American communities in San Francisco. There will be representatives from the Burmese, Cambodian, Laotian, Thai, and Vietnamese communities. For more information, please email contact@seaacc-sf.org
Trail Restoration Weekend at McLaren Park,

August 22

-24
McLaren Park is San Francisco's second largest park, but has been underappreciated for years. Access to the park is difficult from the community on the park's southern border, so V-O-Cal is tackling the creation of a brand new trail in the area of the park that runs along Visitacion, giving locals a nice off-road access into the body of the park. You can be part of the effort!
Join us for the weekend or for just a day. Work on the trail or help in camp with registration, providing food for over 100 volunteers, setting up shower tents, serving beer and more... You won't want to miss it!
Sign up now!
Download the
Fact Sheet
for directions and other important information.
Make a lasting contribution
Tools, gloves, instructions and meals provided
Volunteer one day or the whole weekend
Optional camping Friday and Saturday nights
No previous experience necessary
Opportunities available on trail or in base camp
Ages 14 and over welcome